WARNING!

You may find the following images distressing.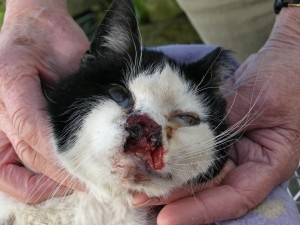 Feral/Stray
This cat was trapped as a feral/stray. His nose and the top of his jaw had been eaten away by cancer. Despite this he still went into the trap to try and eat. How much pain must this little fella have been in? He was immediately taken to the vet, and on veterinary advice, he was put to sleep…. Finally at peace and free from suffering any more.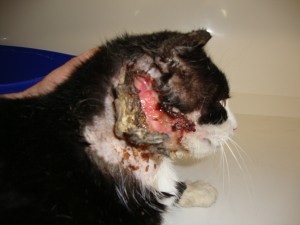 Matthew
Matthew was trapped as a feral, but found to be a stray as he was so friendly. Matthew had a huge open wound on the side of his face that was filled with pus. The smell was horrendous. This poor boy must have been suffering, and in ever so much pain. He was immediately taken to the vet. Matthew's wound was cleaned, and he was given a strong antibiotic injection. He was such a poorly boy, and his wound took a very long time to heal. With veterinary care, and lots of TLC, Matthew eventually made a full recovery and we were able to find him a loving home.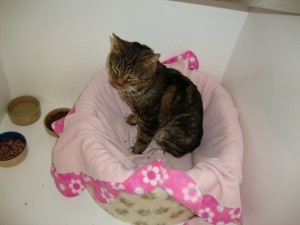 Mr. Twink
 Mr Twink was abandoned by his owner.
His faeces was writhing with live worms! He had slow laboured mobility with his back legs.
A lovely gentle boy, but very sad and subdued.
Sadly he was put to sleep      due to severe kidney failure.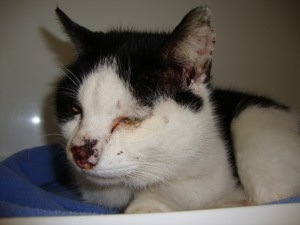 Bobbin
Bobbin had spent all his life working in a field, and living in a shed. He was used for mousing and ratting as his owner kept chickens. When his owner moved away, Bobbin was left behind, and a neighbour alerted us when they noticed that Bobbin was not well. As you can see, his nose was full of dried blood and had a big hole in it, his ears had dried blood around them and he was full of ticks. He was immediately taken to the vet. Sadly Bobbin was diagnosed with nose cancer and tumours in his ears. The prognosis was not good, but despite all  that he had been through, he was a friendly boy. Bobbin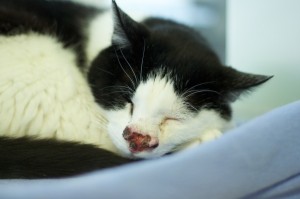 stayed in his pen for quite a while, but gradually, he started to come out, and he would follow the cattery staff around for cuddles. Bobbin eventually had the freedom of the cattery and outdoor pen. As he was not in any pain, we decided we would keep him for the short time he had left. On 2nd August 2012, on vets advice, our darling Bobbin was put to sleep. His nose had started to bleed, and he was also bleeding from his eye. At least the last six months of his life were spent happy and content, and much loved and spoilt by the Animal Aid Team. He will be sorely missed.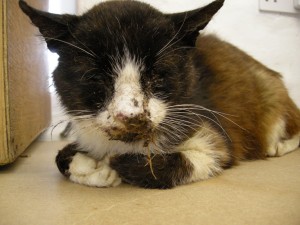 Cat Flu
This poor fella was brought in to us in a dreadful state. He had cat flu and was very poorly. By the time he came to us the best we could do for him was to end his suffering. Unfortunately this is not an isolated case and is one of the reasons that we are working so hard to control the feral cat population in Guernsey.