History

Guernsey Animal Aid was founded in 1998 by Sue Vidamour as an answer to the feral cat problem in Guernsey. The cats were interbreeding and this led to a lot of suffering and birth defect due to inter breeding. Prior to this Sue had been rehoming horses and dogs for 6 years. In 1998 there were 34 feral cat colonies on the island so Sue held a meeting about the problem and Guernsey Animal Aid was formed.
Since this first meeting over 400 feral cats have been neutered or spayed and the kittens re-homed. Now thanks to the efforts of Sue and the rest of the Guernsey Animal Aid gang, feral cats are a shrinking problem. However it is one that we need to keep on top of and here at Guernsey Animal Aid that's exactly what we intend to do. The neutering of domestic cats will also play a part on the ferals of tomorrow.
Over the years Guernsey Animal Aid expanded and eventually we were taking on all animals, no matter how big or small. We were a rescue centre & sanctuary and we never turned an animal in need away.
Unfortunately after many years of rescuing animals in need, due to health issues, Sue was no longer able to look after so many animals, even with the help of all the volunteers, so it was with a heavy heart that Guernsey Animal Aid was reduced in size.
Feral Population Control
It was decided however that we couldn't stop the work we were doing for feral cats on the Island. If we stopped now, then the problem would come back and the feral cat situation would gradually get out of control again. We still trap feral cats. After veterinary checks and neutering we release them where found as long as there is someone there who is willing to keep an eye on them and feed them. Feral kittens, with a little patience, can make fantastic pets.
We now come to the aid of cats, rabbits and a few select cases with dogs.
Neutering

On top of this we also offer a neutering service to those on the island who can not afford to neuter their own pets. The aim of this is to help control the overpopulation of unwanted cats on the island. Many domesticated cats are allowed to roam outside their homes, and when not spayed or neutered this can lead to an explosion in the cat population.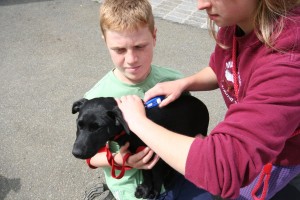 Microchipping
We also offer a microchipping service. A microchip is about the size of a large grain of rice and is implanted just under the animals skin, usually on the back of the neck. It is a relatively painless process and only take a few seconds to do. Microchipping your pet is very important. Shelters and veterinarians will look for microchips to return lost pets quickly to their owners, avoiding expenses for housing, food, medical care, and the possibility of your pet being re-homed to another family!